VRD-485 forecourt RFID reader
VRD-485 RFID reader with RS-485 interface is intended for reading RFID contactless identifiers (cards, tags, others) and sending it over RS-485 interface.

VRD-485 reader provides reading of the identifier from distance from 10 to 90 mm (depending on the conditions). Reader allows to configure buzzer and 2 color LEDs for indication (green and red).
Technical characteristics #
| PARAMETER | VALUE |
| --- | --- |
| Type of contactless identifiers read | EM-Marine (optionally Mifare + EM-Marine) |
| Power supply voltage | 8…14 V DC |
| Average consumed current | 40 mA |
| Peak consumed current | 80 mA |
| Communication interface | RS-485 |
| Communication protocol | Modbus |
| Maximal possible length of communication cable | 1200 m |
| Dimensions | 95 x 68 x 20 mm |
| Weight | 0.1 kg |
| Operation temperature range | -20…+85 deg. C |
Example of reader installation near fuel dispenser #
Click on image to enlarge
Control over reader #
Data transmission is performed through the RS-485 interface in asynchronous mode at a baud rates from 2400 to 115200 bit/s. Port setting are: 1 start bit, 8 data bits, parity can be configured, 1 stop bit. Communication exchange is organized in packets according to the 'Master-Slave' principle. Command packets are transmitted from the control device. Reply packets are sent from the reader to the control device.
The reader control protocol is Modbus, but it is also possible to operate the reader in a simplified mode, in which it transmits the code of the read RFID identifier without following the Modbus protocol immediately upon reading the card. This is done to simplify the work of programmers when a complex solution to a simple problem is not required.
Configuration utility #
VRD-485 readers have a configuration utility running under Windows OS, which allows to configure:
to configure reader's communication address
to configure reader's communication parameters
to search for the reader in case if you forgot its communication address and communication parameters
to enable and disable automatic tag reading (in this case the reader automatically sends the ID of the tag read to the line, for this feature to work without collisions the reader should be only one on the line)
to set indication of the reader by its LEDs and buzzer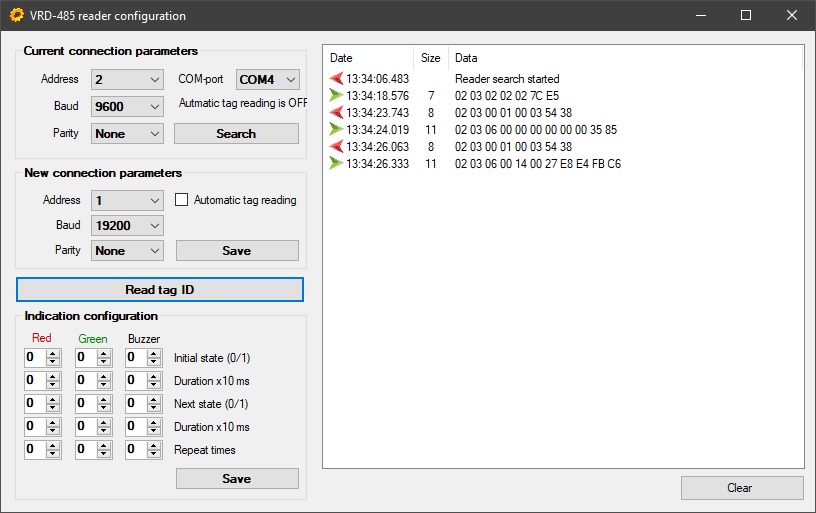 Click on image to enlarge
---
Ask YOUR questions about
"VRD-485 forecourt RFID reader"
---
Other products of section:
Pinpad self-service terminal for petrol stations
Self-service terminal Pinpad is a terminal intended for provision of self-service at petrol stations. It has wired/wireless communication and is equipped with a built-in display, keyboard, RFID-reader (Mifare/Em-Marine standards) and Wi-Fi module, which allows it to be used for following purp