Integration of payment terminals and mobile applications for petrol stations
Trend of all modern petrol station is to support application of customers mobile applications and payment terminals for customers for self-service and to be able to pay for fuel using their bank cards.
---
PTS-2 controller can be used together with bank payment terminals mounted inside the pumps or handheld terminals brought by the fuel attendants.
The payment terminal application is to process the customer's bank card and give a command to the PTS-2 controller for starting a filling with required order limit, the PTS-2 controller is to perform the filling and stop on the ordered dose with informing the payment terminal on the performed transaction details, payment terminal is to withdraw the cost of fuel dispensed from the customer's account and to print a customer's receipt.

PTS-2 controller has rich API for developers and can be easily integrated with payment software systems, retail POS systems and ERP software. PTS-2 controller pushes information on each performed transaction to remote server, so server can get all data on sales immediately from PTS-2 controller.
Operation with the PTS-2 controller is already integrated in a number of popular payment systems and applications. The customers can use their mobile phones and devices for payment for the ordered fuel online using the bank cards and also to gain their personal loyalty points and discounts.
The customer application can work in parallel with the local management system installed at day time and also for the self-service during the night time when the POS system is switched off and there is no cashier. The mobile applications allows the customer to select the close petrol station and make the payment in a convenient way with keeping of control over the filling process.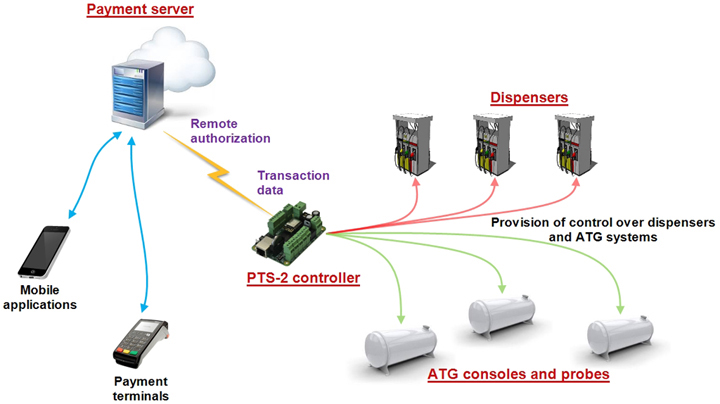 Products in structure of this solution:
---
---
Ask YOUR questions about
"Integration of payment terminals and mobile applications for petrol stations"