Remote monitoring over petrol station activity and alerts
When managing a network of petrol stations it is always important to be aware about alert situations happening on remote petrol stations and to get information about them as fast as possible. Also, it is important to be able to remotely monitor realtime operation of the activities on the petrol station to manage them correctly and avoid any unexpected situations. There is a simple solution for this task!
---
PTS-2 forecourt controller is a popular forecourt controller for automation of petrol stations. In case if there is an existing POS system already installed on the station – then the PTS-2 controller allows to monitor operation of the fuel dispensers, tanks and price-boards (and optionally to control the sales when required).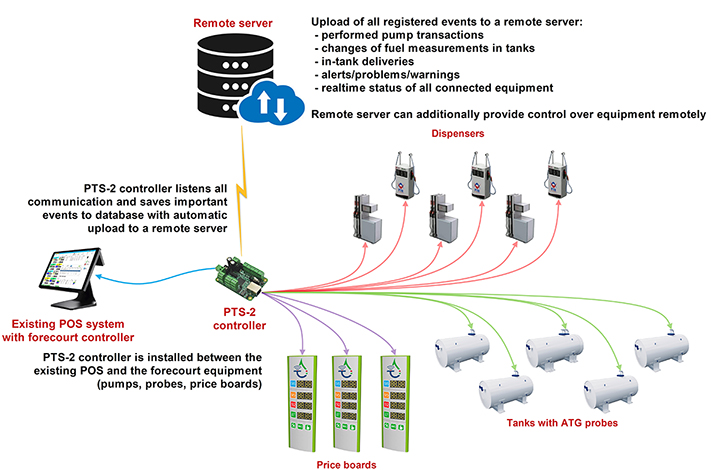 Click on image to enlarge
PTS-2 controller can be installed on already automated petrol stations in between the existing management systems (POS or forecourt controllers) and dispensers, probes, price boards. The PTS-2 controller will pass through all communication with saving of all important events to its database with automatic upload to a remote server:
performed pump transactions
changes of fuel measurements in tanks
in-tank deliveries
detected alerts/problems/warnings
realtime status of all connected equipment
All this data is automatically collected and uploaded to a remote server for reporting and analysis. Remote server also can provide control over all the forecourt equipment through the PTS-2 controller.
Products in structure of this solution:
---
---
Ask YOUR questions about
"Remote monitoring over petrol station activity and alerts"