Wireless petrol station
For reducing the amount of mounting work during installation of petrol station it is possible to make wireless connections. Using a wireless filling station can reduce the cost of maintenance of equipment at filling stations, increase the efficiency of consumption of petroleum products, reduce fraud at filling stations.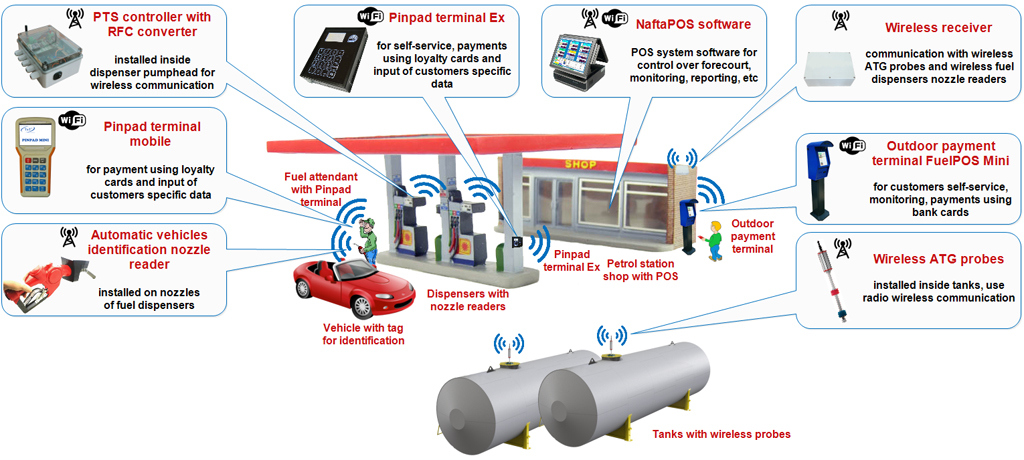 Click on image to enlarge
Products in structure of this solution:
NaftaPOS software for petrol stations
POS system software NaftaPOS is complex software for petrol stations intended for: provision of control over technological processes and forecourt equipment (fuel dispensers, ATG systems, price boards, car washes, others) automated measurement and commercial account at petroleum products provision o... Read more
PTS-1 controller over fuel dispensers and ATG systems
PTS-1 controller over fuel dispensers and ATG (automatic tank gauge) systems for petrol stations serves as a protocols converter. It knows communication protocols of a more than 100 brands of fuel dispensers and more than 30 brands of ATG systems and probes and allows control over any of them in exa... Read more
Pinpad self-service terminal for petrol stations
Self-service terminal Pinpad is a terminal intended for provision of self-service at petrol stations. It has wired/wireless communication and is equipped with a built-in display, keyboard, RFID-reader (Mifare/Em-Marine standards) and Wi-Fi module, which allows it to be used for following purposes: p... Read more
Outdoor payment terminal for petrol station Fuel POS Mini
Outdoor payment terminal for petrol stations Fuel POS Mini is designed to help customers to order and pay for fuel using self-service. Self-service terminal Fuel POS Mini may contain different content depending on the customer needs: forecourt controller POS software receipts printer banknotes valid... Read more
North Falcon magnetostrictive level probes
North Falcon magnetostrictive level probes (wired and wireless level probes) are intended for continuous measurement of petroleum products levels (fuel and LPG), produced water level and temperature in tanks at petrol stations, tank farms and refineries. Probes are supplied with length up to 15 m in... Read more
---
---
Ask YOUR questions about
"Wireless petrol station"