POS.21 - Fiscal printer for petrol stations
Fiscal printer POS.21 for petrol stations is certified in Ukraine and includes 3 main parts inside of it:
Fiscal module for petrol station - main part of the system, which is responsible for registration of fiscal data and printing of fiscal receipts using the printer, control over fuel dispensers through connected PTS controller, storage of all information on performed sales in non-volatile fiscal memory, transfer of all receips with electronic signature to remote server of tax inspection.
PTS controller over fuel dispensers and ATG systems for petrol stations - is responsible for provision of control over connected fuel dispensers and ATG tank measurement systems. PTS controller knows communication protocols of more than 70 different brands of fuel dispensers and more than 15 brands of ATG tank measurement systems.
Receipts printer CUSTOM VKP80II - is used for printing of fiscal receipts on sales and reports on activity of petrol station. Printer is installed in the same case with boards of fiscal module and PTS controller. The case is sealed during operation.
Operation #
Fiscal printer allows connection of the following equipment:
Personal computer with NaftaPOS software
Fuel dispensers
ATG tank measurement systems
Clients pole display
Money box
Barcodes scanner
In fiscal printer a possibility of organization of several working places of cashiers is foreseen, when operation over same fuel dispensers should be done from several control systems. This question is solved in the logic of PTS controller operation.
The POS.21 fiscal printer can be applied inside the outdoor payment terminal.
Fiscal printer for petrol stations POS.21 is installed and successfully working on a number of biggest petrol stations of Ukraine.
Connections scheme #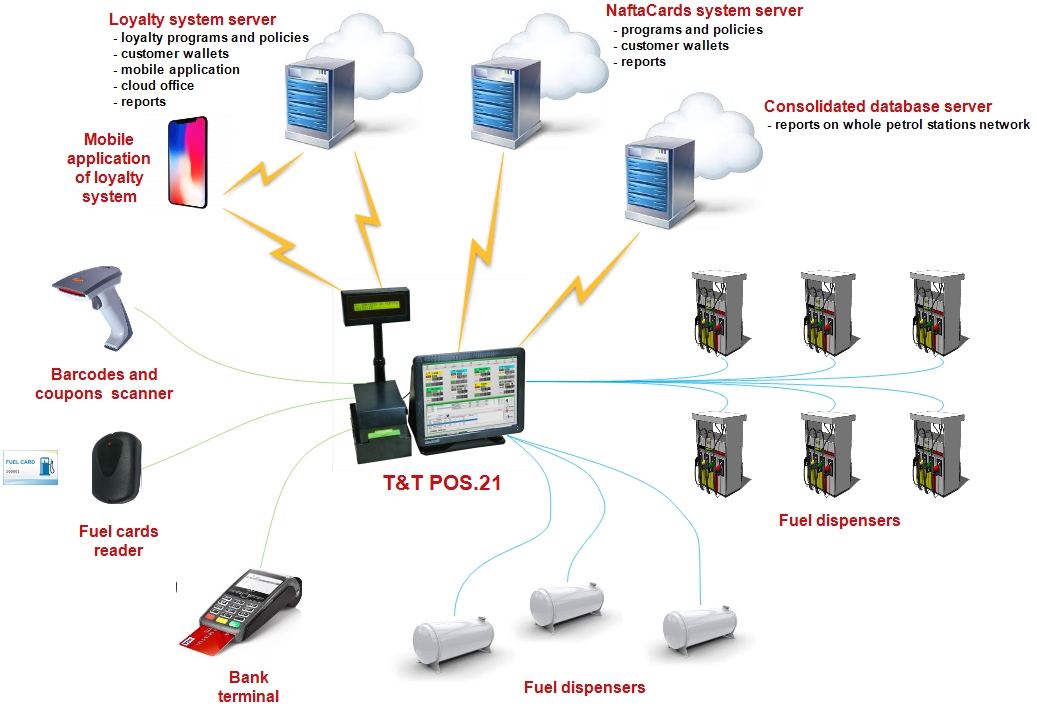 Click on image to enlarge
Supported pumps communication protocols #
Supported probes and ATG systems communication protocols #
---
Ask YOUR questions about
"POS.21 - Fiscal printer for petrol stations"
---
Other products of section: