Fuel dispensers automation
What is a petrol pump? #
A petrol pump or a fuel dispenser for gas stations is being used for refueling different vehicles with fuel (gasoline, diesel, LPG) at filling stations, fuel depots, mobile fuel tanker, etc. Such devices provide accurate registration of dispensed fuel ensuring each liter counted. Drivers worldwide are using different definitions of petrol pumps. You may find petrol, fuel, gasoline, gas pumps or dispensers. Obvious that for individuals the name is determined by the types of dispensing fuel.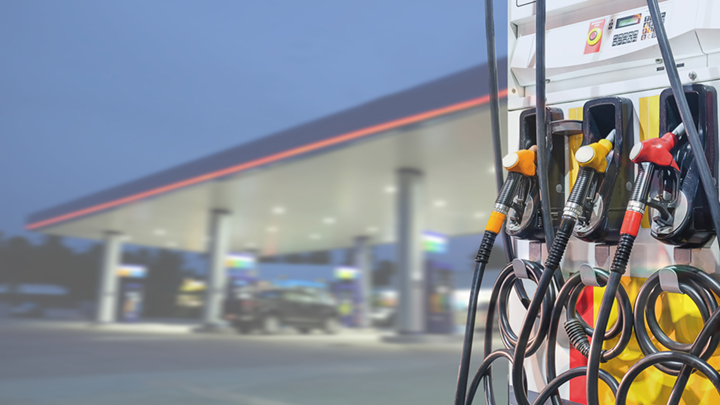 What does a fuel pump do? #
The main purpose of a pump is dispensing and timely terminating certain fuel types coming from the station to the driver's tank. The main unit of the delivering unit is a pump with an electric or mechanical drive. Hand-operated fuel dispensers had hardly been manufactured. Such type is quite seldom and used mostly for internal refueling or in some mobile stations. Some time ago this type was completely replaced by electric drive.
Pumps include reading devices with an indication that displays information on dispensed fuel, its price and total cost.
Forecourt controller and automation system are responsible for pump operation, and cash register can be connected as well. Fuel attendant presets the order by inputting needed liters or funds to be paid. Each dispenser with an electronic block equipped with a taken nozzle sensor which helps to avoid wrong designation of fueling point. Self-service solutions can fully eliminate labor operation at the site.
Types of petrol pumps #

Based on such requirements as bandwidth, mobility, automation possibilities petrol pumps can be classified:
by type of operation: manual or remote control. Remote control over pumps is provided by the operator in the controlling room, manual – by the client at the forecourt.
by productivity: fuel dispensing capacity from 25 till 160 LPM. Standard pumps have 50 LPM flow rate, for large vehicles you may find petrol pumps with a super-high dispensing of up to 400 LPM. High performance fuel pumps are used at petrol stations with large fuel tanks. There is no difference for fuel management system, which pump is connected as communication protocol are the same.
by type of ownership: Commercial and departmental petrol pumps. Commercial ones are equipped with some inbuilt payment options; departmental ones count only the volume of gasoline, and can be equipped with self-service.
by the number of serviced fuel types: single-fuel (1) and multi-fuel (from 2 to 5), and by the quantity of nozzles: from 1 to 10.
by type of installation: mobile (on vehicle chassis or trailer), stationary, container stations (together with tanks or separately).
by type of fuel: fuel-dispensing, gas-distributing or combined fuel dispensers. Selection of the optimal fuel dispenser is mostly economic task than a technical one. So here, choice is based on the price of the fuel dispenser, a station owner preference on brand of pumps, its design, relations with the supplier, the guarantee conditions, availability and reliability of technical support, etc.
How to connect and provide configuration of fuel pump? #
Modern fuel dispenser is a complicated hydraulic and electronic device. As a hydraulic device, it consists of following components:
a pump that brings fuel from a petrol tank
an engine that ensures the operation of pump
a flow meter that keeps the accuracy of fuel dosing
shut-off valve, which ensures the beginning and end of fuel dosing
a flow reduction valve that slows down the flow of fuel dosing for accurate dosing
a pulse sensor with different discreteness (5 ml, 10 ml, 20 ml, ...), in conjunctions with flow meter, ensures the accuracy of the dispensed fuel dose
All these internal components are managed by the electronic head of fuel dispenser, called an electronic controller. Particularly this electronic controller is connected via the exchange protocol with the forecourt controller (called as FCC) and some fuel management system, POS system at the petrol station. Each fuel dispenser manufacturer implements its own exchange protocol (communication protocols) of the fuel dispenser with the FCC.
When connecting fuel dispenser, you need to configure the electronic controller of pump. There are many parameters of the electronic fuel dispenser controller:
discreteness of sensor pulses
price of 1 liter of fuel
timeout - the maximum time for communication interruption between the FCC and the electronic controller of dispenser. After the expiration of which the fuel dispenser automatically turns off the fuel supply to the vehicle tank
and many other options and parameters
Setting these parameters is called fuel dispenser configuration.
How to calibrate the fuel dispenser? #
Fuel dispenser must dispense fuel according to its error and without any deviations above. Calibration of fuel dispenser mean checking dispensing accuracy on regular basis. Essentially, we talk about dispensing accuracy of pump flowmeter and nozzles. If fuel dispenser equipped with several nozzles, it's necessary to calibrate each nozzle operation.
Calibration of fuel dispenser is made as follows. Preliminarily we need to purchase a standard measuring container, for example, volume of 10 or 20 liters. Through POS system we set up some order for tested nozzle (10 or 20 liters) and dispensing fuel into standard measuring container. If dispensed amount is more or less than the specified dose, flowmeters of the selected nozzle should be adjusted. The deviation of underfilling or overflowing shouldn't be more than 50 ml per 10 liters.
How to communicate with a fuel pump? #
Worldwide you may find fuel pumps from many different manufactures from USA, Europe, China, India, Turkey and other countries and regions, with various communication protocols and physical interfaces. Such fact creates subsequent complexity.
We in Technotrade LLC are professionally engaged in provision of forecourt controllers able to communicate with the fuel dispensers and provide control over them. We provide support in configuration of the fuel pumps (setting of configuration parameters for automation, setting communication addresses, selection communication protocol and baud rate), connection the fuel dispensers in wired and wireless ways.
In order to be able to work with a big number of different brands of dispensers we created our own forecourt controllers, which know communication protocols of a great variety of dispensers, ATG systems and probes, price boards and readers allowing to control over any of them in a common way regardless of the brand or communication protocol used, so using the forecourt controller any management system (POS system, OPT, mobile application) can use a common way for provision of control over any supported brands in the same way.
List of directions we provide technical support and consultations includes:
general consultations on petrol stations automation: selection of forecourt equipment (dispensers, ATG systems and probes, price boards, others) and software suiting to customer needs
consultations on putting of power and informational lines on petrol stations for feeding and connection to fuel dispensers, ATG systems, price boards, others
consultations and support in installation, connection and configuration of dispensers (fuel, LPG, CNG), tank measurement consoles and probes, price boards, management systems (POS, OPT, consoles), payment terminals, receipt and report printers, barcode scanners, server solutions (loyalty systems, discount systems, bonus systems, analytics), others
remote supervision of installations done by us and by third parties
start-up works and commissioning of petrol stations
remote connection and troubleshooting of problems and errors found on sights
assistance to developers of third party party applications for integration with our forecourt controllers and other solutions
training of personnel and staff and sharing of experience
Please contact us if you are interested in solutions for control over your dispensers or support in their configuration or maintenance.
Supported pumps' brands #
Do you have some other brands of pumps?
We are constantly expanding a list of supported brands of pumps.
Please contact us if you are interested in other pumps or probes brands, communication protocols or control equipment not listed here.
Products in structure of this solution:
---
---
Ask YOUR questions about
"Fuel dispensers automation"