Computer system of control and account

The Computer control system provides control over the filling stations equipment, gas-filling stations and gas-filling compressor stations for retail sale of petroleum products, liquefied and compressed gas, record of delivered petroleum products, account of sales of related products and services provided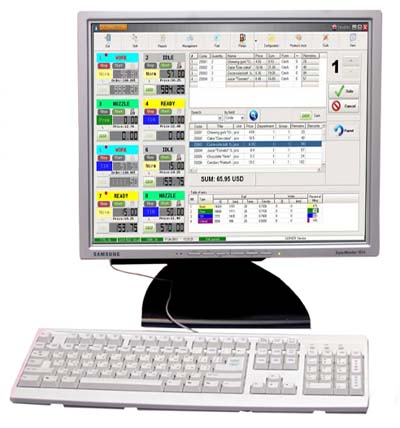 The system has a wide spectrum of service functions:
Management and control of petroleum products
Compilation of accounting documents
Automatic printing of receipts and fiscal reports
For the normal functioning of the system it is necessary to have:
Personal computer with a class no lower than Intel Atom 1,8GHz and RAM at least 2 Gb
On the customer request it is possible to connect a system for measuring the level in reservoirsVEEDER ROOT, STRUNA, Start Italiana, etc.), a system of cashless payments on the basis of smart-card systems and other terminal equipment of filling stations.

SUPPORTED COMMUNICATION PROTOCOLS
---
Fuel dispensers communication protocols
Baud rate is configured for pump channel in PTS controller independently on the used communication protocol.

Some dispensers may demand using interface converter boards to RS-485 interface (depends on electronics of used pumphead in dispenser).
##
FUEL DISPENSER BRAND
PROTOCOL NAME
1
2A
S4-Dart
2
ACTRONIC
PEC Pump Communication Protocol
3
ADAST (ADAMOV SYSTEMS)
Adast EasyCall
4
AG Walker
SPDC-1,
MPDC-1
5
AGIRA
PEC Pump Communication Protocol,
PumpControl GC21,
Develco
6
ANGI International
Gilbarco Two-Wire
7
Ariel
PumpControl GC21
8
ASPRO
PumpControl GC21,
Develco
9
BARANSAY
Gilbarco Two-Wire
10
BATCHEN
Gilbarco Electroline,
Gilbarco MPP,
PumpControl GC21,
Maser
11
BENNETT
Bennett pump dispenser protocol (current loop),
Bennett pump dispenser protocol (RS-485 Fleet),
Bennett pump dispenser protocol (RS-485 Retail)
12
BLUE SKY
Blue Sky,
SS-LAN
13
CENSTAR
Censtar protocol
14
CFT Clean Fuel
Gilbarco Two-Wire
15
COMPAC
PEC Pump Communication Protocol,
Gilbarco Australia
16
DATIAN MACHINES
WS 16 communication protocol
17
DEVELCO
Develco
18
DONG HWA PRIME
Prime pump interface
19
EMGAZ DRAGON
Marconi PumaLAN
20
EPCO
EPCO protocol
21
EUROPUMP
S4-Dart
22
FALCON LPG
Falcon
23
FORNOVO GAS
Marconi PumaLAN
24
FUELQUIP
PEC Pump Communication Protocol
25
FUELSIS
S4-Dart
26
GALILEO
PumpControl GC21
27
GILBARCO
Gilbarco Two-Wire
28
GREENFIELD
Gilbarco Two-wire
29
HONG YANG
HongYang FZ-protocol,
HongYang 886 communication protocol,
HongYang 886 MPD communication protocol
30
IMW
PumpControl GC21,
Tokheim UDC
31
INTERMECH
PEC Pump Communication Protocol
32
KALVACHA
Kalvacha
33
KIEVNIIGAZ
TIT UniGaz
34
KOREA ENE
EnE Dispenser POS protocol
35
KPG-2
TIT UniGaz
36
KRAUS
Gilbarco Two-Wire
37
KWANGSHIN
KS-NET PROTOCOL
38
LANFENG
RS–232 protocols,
RS-485 protocol
39
LG ENE
EnE Dispenser POS protocol
40
LOGITRON
Marconi Logitron PumaLAN
41
MASER
Maser
42
MEKSAN / WAYNE SU86
WAYNE Dart
43
MEKSER
S4-Dart
44
MEPSAN
S4-Dart
45
MIDCO
MIDCO Proprietary Pump Protocol
46
MS GAS
SK PROTOCOL
47
NUOVO PIGNONE
Nuovo Pignone RS-485,
Nuovo Pignone Current Loop 4-wire,
Wayne Dart
48
PEC (GALLAGHER FUEL SYSTEMS)
PEC Pump Communication Protocol,
Gilbarco Australia
49
PETPOSAN
S4-Dart
50
PETROEQUIP
Lanfeng
51
PETROMECCANICA
WAYNE Dart
52
PETROTEC
PETROTEC HDX protocol
53
PROWALCO
SPDC-1,
MPDC-1,
SPDC-2,
MPDC-2
54
PUMP CONTROL
PumpControl GC21
55
REAL-TECH
Blue Sky,
SS-LAN
56
RIX
PEC Pump Communication Protocol
57
SAFE
SAFE PMII Graf,
PumpControl GC21
58
SALZKOTTEN
ER3-Data interface,
Gilbarco Two-Wire,
Marconi Logitron PumaLAN
59
SANKI
Sanki communication protocol,
Sanki communication protocol for Nigeria,
Sanki communication protocol for CIS countries
60
SEA BIRD
Blue Sky
61
SHELF
Shelf
62
SCHEIDT & BACHMANN
T02,
V11
63
SCHIBATA
SS-LAN
64
SLAVUTICH
SLAVUTICH FD-Link
65
SOMO PETRO
POS protocol
66
TATSUNO (JAPAN)
Tatsuno SS-LAN
67
TATSUNO EUROPE (FORMER BENC)
Tatsuno Benc PDE,
Logitron PumaLAN
68
TOKHEIM
Tokheim Controller-Dispenser Communication protocol,
Logitron PumaLAN
69
TOKICO
Tokico SS-LAN
70
TOMINAGA
Tominaga SS-LAN
71
TOPAZ
TOPAZ Electro,
ISKRA ver. 1.72
72
TRANSPONDER
PEC Pump Communication Protocol
73
UNICON-TIT
TIT UniPump
74
WAYNE DRESSER
WAYNE Dart,
Wayne US Current Loop
75
WAYNE PIGNONE
WAYNE Dart
76
YENEN
S4-Dart,
Maser
77
ZAP / MM PETRO
MM PETRO ZAP RS-485
Automatic tank gauge (ATG) systems communication protocols:
Communication parameters (baud rate, parity control, data and stop bits) are configured for ATG channel in PTS controller independently on the used communication protocol.

##
ATG SYSTEM BRAND
PROTOCOL NAME
1
ACCU
PD-300 Communication Protocol
2
ASSYTECH
Assytech
3
EBW
Gilbarco Veeder Root
4
ENRAF
ENRAF Height protocol,
ENRAF Volume protocol
5
FAFNIR
FAFNIR VISY-Quick,
Gilbarco Veeder Root
6
FRANKLIN FUELING
GILBARCO Veeder Root
7
GILBARCO Veeder Root (TLS-2, TLS-300, TLS-350, TLS-450)
GILBARCO Veeder Root
8
HECTRONIC
HECTRONIC HLS
9
HUMANENTEC
520S Communication Protocol
10
INCON
GILBARCO Veeder Root
11
LABKO
Labkotec POS interface protocol
12
MTS ATG SENSORS
MTS USTD
13
OMNTEC
GILBARCO Veeder Root
14
OPW
GILBARCO Veeder Root
15
PETRO VEND
PETROVEND4
16
QINGDAO GUIHE
Gilbarco Veeder Root
17
START ITALIANA
START ITALIANA SMT/XMT,
Gilbarco Veeder Root
18
STRUNA
STRUNA Kedr spec. 1.4
19
UNIPROBE
UNIPROBE
20
VEGA
VEGA ASCII protocol
21
WINDBELL
WINDBELL SMART-PROBE COMMUNICATION PROTOCOL
NEED MORE PROTOCOLS?
We are constantly expanding a list of supported communication protocols and forecourt equipment.
Please contact us if you are interested in other protocols or control equipment not listed here.
Hardwire Requirements
For the normal functioning of the system it is necessary to have:
Personal computer with a class no lower then Intel Atom 1,8GHz and RAM at least 2 Gb.
PTS controller
Electronic cash register (not necessery)
System for measuring the level of fuel in reservoirs (not necessery)
Software for the Computer Control System
PURPOSE
---
POS system software NaftaPOS is complex software for petrol stations intended for:
technological processes and forecourt equipment (fuel dispensers, ATG systems, price boards, car washes, etc.)

management

automated measurement and commercial accounting of petroleum products
sales of retails products management using various payment forms
automated reporting of petrol station operation history for the selected time lapse

petrol station staff

operation accounting and management
discount-bonus customer loyalty card system management
petrol station operation

remote monitoring

(optional)
petrol station network

operation

remote reporting

(optional)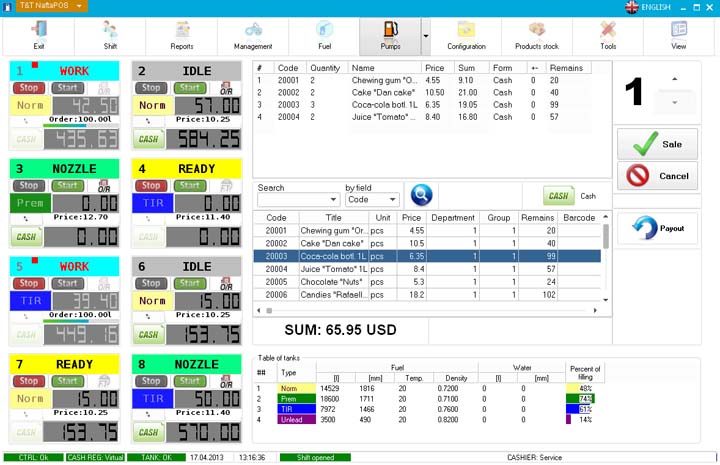 Click on images to enlarge
Main purposes of NaftaPOS software are:
make petrol station work efficiently and bring maximum profit to its owner
reduce the cost of management over the petrol station
make activity of cashiers and fuel attendants transparent in order to avoid stealing and frauds by personnel of petrol station
make reporting over petrol station operation easy and convenient
provide management over fuel dispensers and ATG systems of various brands and models
provide multiple payment methods and attract more customers with discount-bonus loyalty programs (optional)
make the owner of petrol station concretely master all operations and transactions by remote monitoring of petrol station activity and sales (optional)
provide control over fuel dispensers and ATG systems of various brands and models
Area of application – petrol stations for dispensing of petroleum products, diesel fuel, liquified petroleum gas (LPG), compressed natural gas (CNG), multiproduct fuel petrol stations, petroleum storage depots.
NaftaPOS software can simultaneously control up to 32 fuel dispenser sides (fueling places). Connection of fuel dispensers and ATG systems is made through a PTS controller over fuel dispensers and ATG systems, which supports more than 60 types of of fuel dispensers of various manufacturers (Wayne Dresser Europe, Wayne Dresser Brasil, Gilbarco Veeder Root, Tokheim, Nuovo Pignone, Wayne Pignone, Tatsuno Japan, Tatsuno Europe, Tatsuno Rus, Tokico, Bennett, Petrotec, Salzkotten, FAS, Adast, MM Petro ZAP, Emgaz Dragon, Galileo, Kraus, Welma, PEC (Gallagher), Develco, Logitron, Kalvacha, Safe, Wayne Meksan, Mekser, Mepsan, 2A, Petposan, Petrolmeccanica, Batchen, Email, EuroPump, Baransay, Sanki, Korea EnE, LG EnE, SOMO Petro, HongYang, Blue Sky, GreenField, Falcon, Dong Hwa Prime, EPCO, Slavutich, Shelf, UniCon, UniGaz and others.) and also various types of automatic tank gauge (ATG) systems of various manufactures (ASSYTECH, EBW, ENRAF, FAFNIR, FRANKLIN FUELING, GILBARCO Veeder Root (TLS-2, TLS-300, TLS-350, TLS-450), HECTRONIC, INCON, LABKO, MTS ATG SENSORS, OMNTEC, OPW, PETRO VEND, START ITALIANA, STRUNA, UNIPROBE, VEGA, WINDBELL and others).
Trial version of NaftaPOS is available for download upon request

CONNECTION OF FORECOURT EQUIPMENT
---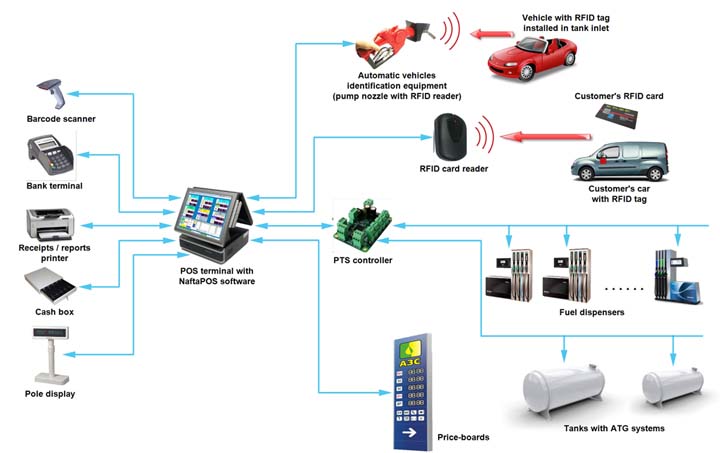 Click on image to enlarge
---
Visualization and supervision of petrol station activity real-time (locally and remotely) - NaftaPOS software provides a easy possibility to monitor all the forecourt equipment operation online and inform about all malfunctions and events.
Convenient operation without any professional training because of intuitive, explicit and clear user interface and operation procedures
Flexible adjustment of petrol station operation - NaftaPOS system supports several ways of operation, which are flexible to set and adjusted to country local traditional specific ways of operation and rules
Easy customization of user interface with selection of a graphical skin, position and size of windows and elements, their details
Flexibility in creation and configuration of templates for printed receipts provides a possibility to make printed receipts of any kinds (text, images, sizes of receipts no matter which printer is used for printing them)
Easy-to-read reporting and graphic statistic makes petrol station work efficient and brings maximum profit to its owner and reduce the cost of petrol station management
Remote data gathering from a petrol station provides a possibility for petrol station owner to supervise petrol station activity everywhere and every moment and make the owner of petrol station a fully-fledged master of all operations and transactions through remote monitoring of petrol station activity and sales
Support of a bonus discount loyalty and payment card system for attracting new customers and keeping existing customers
Supports over 70 communication protocols of fuel dispensers and ATG systems. Application of PTS controller over fuel dispensers and ATG systems gives a possibility to easily connect to any of the supported fuel dispensers. Rich set of interface converters for connection to fuel dispensers provides compatibility with various kinds of input interfaces.
Scalability - NaftaPOS system is developed with taking into account all the modern requirements to systems for automation of petrol stations. It is as relevant to small petrol stations, as it is to big petrol complexes with organization of several working places of cashiers, administrator (Back-Office) of a petrol station, central Head-Office for management and planning and provision of loyalty card system for customers.
Possibility to provide control over same fuel dispensers from several NaftaPOS systems - Several NaftaPOS systems can be installed on the same petrol station and share common equipment and database.
Easy localization to any international language
Trial version of the system is avaiable for customers willing to test the system
Easy updating - NaftaPOS is easy to be updated, when updates are installed, all of system database, software and hardware adjustments are kept. All new updates are available for download to all existing customers. Easy way to back up and restore NaftaPOS controller configuration between updates.
Support by developers - 24 hour support to all customers of NaftaPOS software on any standing issues.
---
| | |
| --- | --- |
| Quantity of supported products | Up to 100 000 products |
| Quantity of payment forms | Up to 7 payment form types |
| Quantity of supported dispensing places | Up to 32 dispensing places |
| Database type used | MySQL |
| Supported Windows Operating System versions | OS Windows 2000, Windows XP, Windows Embedded POSReady 2009, Windows Vista, Windows 7, Windows 8, Windows Server |

OVERVIEW OF OPERATION IN NAFTAPOS SYSTEM
---
NaftaPOS system provides a convenient user interface, which can be adjusted to fit your needs and preferences. Windows of pumps, products sales, tanks can be dragged to any place on the main panel and fixed, their scale can be changed and colors can be adjusted.

General view of NaftaPOS software can be modified
(click on images to enlarge)
In addition NaftaPOS software supports skins, which completely change the user interface and are made to made the system suit to customers tastes:
Any of more than 40 skins can be set in NaftaPOS software
(click on images to enlarge)
Well-thought interface of windows for operation with pumps, tanks, sales of products brings convenience during system exploitation on petrol station:
Windows in NaftaPOS software can change their position,
properties and be placed anywhere in NaftaPOS desktop
(click on images to enlarge)
Configuration of NaftaPOS software allows precise adjustment of petrol station equipment to system, selection of the way of operation, adjustment of GUI:
Easy and understandable configuration of NaftaPOS system
(click on images to enlarge)
NaftaPOS system makes taking care of petrol station operation easy and convenient:
Reporting in NaftaPOS software
(click on images to enlarge)

MODES OF NAFTAPOS SYSTEM OPERATION
---
Taking into account that in different countries there are different particularities of petrol stations operation like:
the way the customers are serviced (order amd payment is given at pump or to cashier in petrol station office)
the way how the management of petrol station is done (operation of cashiers in working shifts or without)
the way how sales and remains of fuel are calculated (using automatic tanks gauge system, pump total counters, inventory reconcilation)
NaftaPOS software is designed to make it possible to flexibly configure and adjust a required way of operation and allow customers to make it work as their local rules demand.
One of the commonly used methods of NaftaPOS operation is when control over fuel dispensers is made by fuel attendants, who service customers. Fuel attendants operate dispensers and receive payment from customers. Fuel attendants control the fuel dispensers as if those worked in a standalone mode (administering starts automatically when the dispensing nozzle is lifted and trigger is pressed). In this mode it is possible to make fuel order preset (in volume or in money amount) from the dispenser preset keyboard. At this moment NaftaPOS software monitors all the transactions being performed and writes all the information to its database. Also cashier at any time can see activity of every fuel dispenser and in case of necessity can stop any of them and receive reports on operation remotely from NaftaPOS software. Receipts can be optionally printed after each dispensing.
Also in this mode third-party applications are able to use NaftaPOS software database as a storage of all transactions and sales performed (locally or remotely) – then this third party software can find total data on all sales and transactions from NaftaPOS database. NaftaPOS can be set to work without any working shifts and automatically start at launching PC so that it was possible to start operation with dispensers: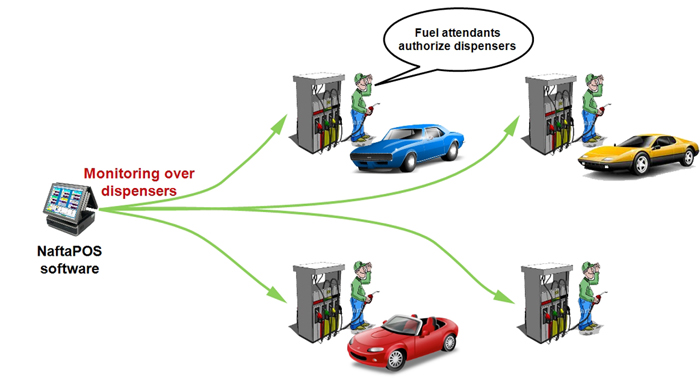 Manual (monitoring) mode of control over fuel dispensers
(click on images to enlarge)
Another popular way of NaftaPOS operation is when control over fuel dispensers is made by the cashier, who logs in NaftaPOS under a working shift (using his personal login and password) and is responsible for all sales performed at petrol station. Money are to be directly paid to the cashier, each customer after the sales performed receives a receipt: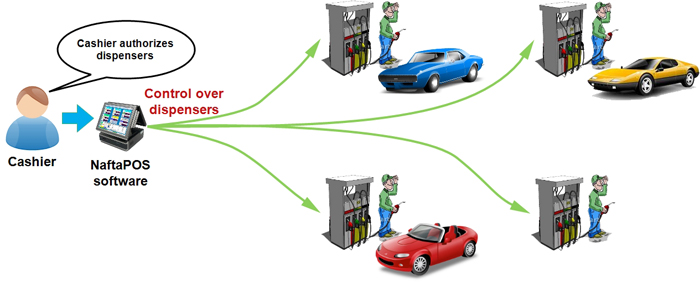 Preset mode of control over fuel dispensers
(click on images to enlarge)

WEB REPORTING SYSTEM AND ONLINE MONITORING
---
NaftaPOS system has a web-portal to provide:
formation of reports on operation of petrol stations in various views for analytics and statistics of petrol stations activity to provide decisions for optimization of petrol stations operation;
online monitoring of each petrol station activity (fuel dispensers operation, remains and parameters of fuel in tanks, current working shift operations) to provide control over personnel at petrol station and security;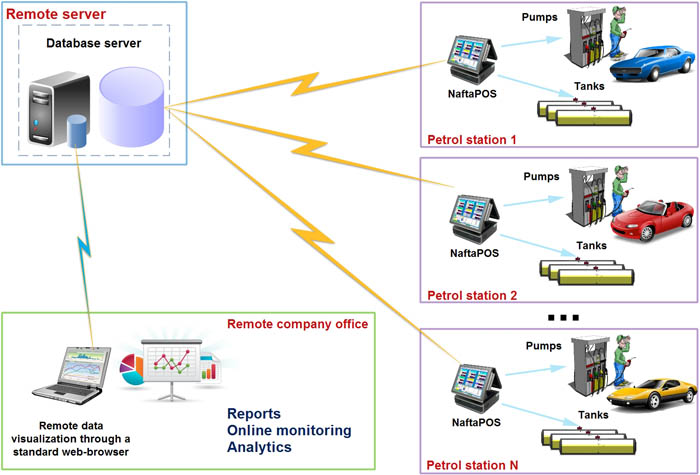 Operation of NaftaPOS web-portal for collection of data from NaftaPOS system
(click on images to enlarge)
Thus using a standard web-browser it is possible to receive reports on operation of NaftaPOS systems at petrol stations and also to monitor their activity online:
Web reporting of NaftaPOS operation and online monitoring through a web-browser
(click on images to enlarge)
NaftaCards fuel cards system
---
NaftaCards fuel cards system for petrol stations – hardware and software complex, appointed for provision and account of fuel sales at petrol station networks using fuel cards with fuel volume, money and discount wallets or their mixtures.
The system allows to replace usage of cash and coupons to more reliable and convenient settlements using fuel and money cards. Card of the NaftaCards system can be used for filling with petrol at petrol station and reception of a discount.
The system allows to issue fuel and discount cards for customers and also to lead management over cards and account of all sales using these cards with management over accounts of customers and possibility to set flexible system of discounts.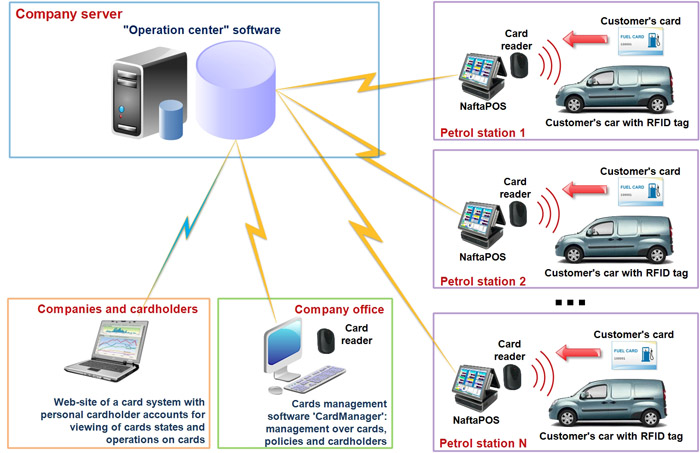 Operation of NaftaCards payment and discount loyalty card system with NaftaPOS system
(click on images to enlarge)
NaftaCards system operation
(click on images to enlarge)
Ask YOUR questions about "Computer system of control and account"
---
Other products of section:
Pinpad self-service terminal for petrol stations
Self-service terminal Pinpad is a terminal intended for provision of self-service at petrol stations. It has wired/wireless communication and is equipped with a built-in display, keyboard, RFID-reader (Mifare/Em-Marine standards) and Wi-Fi module, which allows it to be used for following purposes: p...
VRD-E forecourt card reader
VRD-E card reader is intended for reading of EM-Marine and Mifare contactless identifiers and its transmission using Ethernet interface. Reader provides reading of code from distance from 50 to 100 mm (depending on the conditions of operation). Reader is provided as for internal installation (near c...
Control panel for fuel dispensers and automated accounting of fuel sales
Console panel provides control of fuel dispensers and level gauges, sends information to the consolidated database system, connects to the NaftaCards fuel card system with card readers, and keep track of fuel and related products. The panel has a configuration software that gives you greater customi...