Wireless petrol station
For reducing the amount of mounting work during installation of petrol station it is possible to make wireless connections. Using a wireless filling station can reduce the cost of maintenance of equipment at filling stations, increase the efficiency of consumption of petroleum products, reduce fraud at filling stations.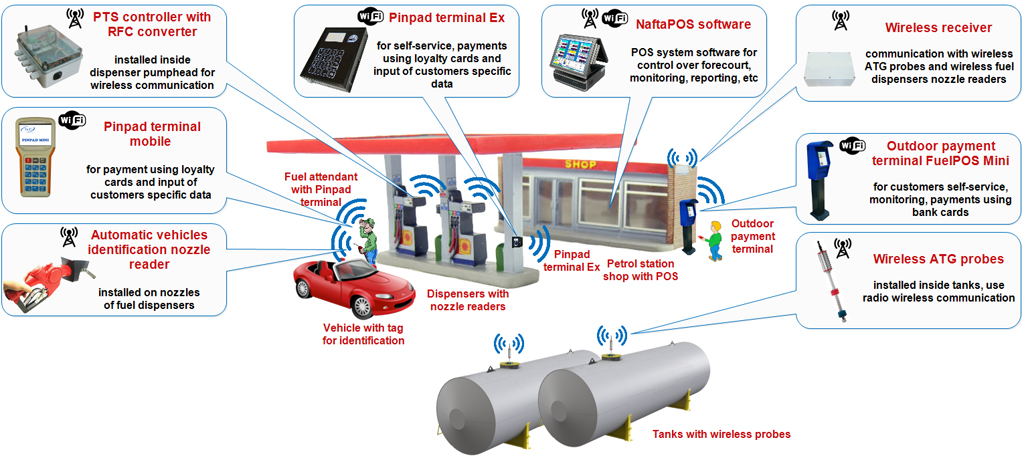 Click on image to enlarge
Applied equipment: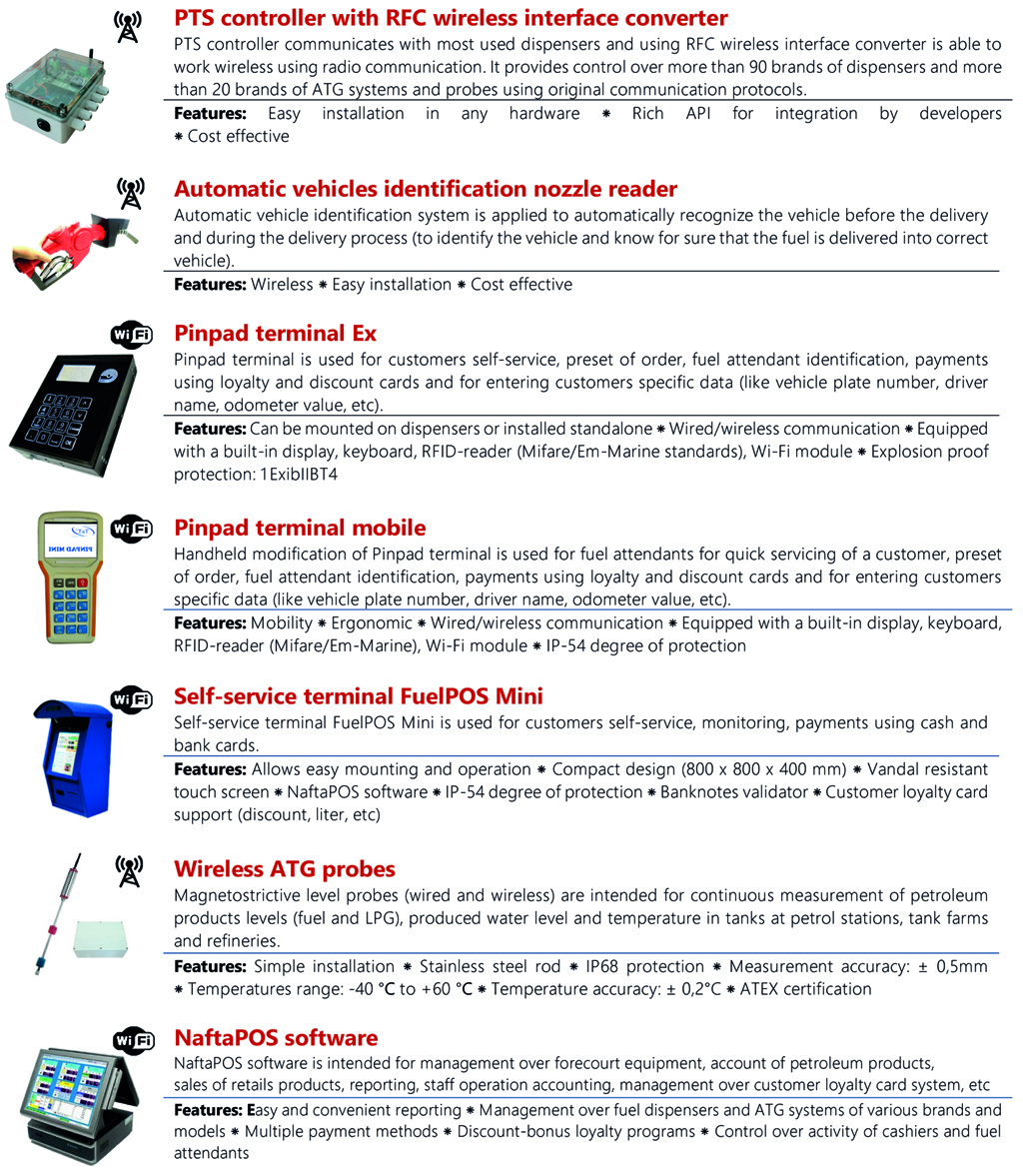 Click on image to enlarge
---
Ask YOUR questions about
"Wireless petrol station"
---
Other products of section:
Pinpad self-service terminal for petrol stations
Terminal Pinpad – is a self-service terminal intended for provision of self-service at petrol stations. It has wired/wireless communication and is equipped with a built-in display, keyboard, RFID-reader (Mifare/Em-Marine standards) and Wi-Fi module.
Pumpheads - electronics and indicators for fuel dispensers
Fuel dispensers' pumpheads (electronics and indicators) UNICON-TiT are designed for provision of control over fuel dispensers (pumps) to deliver liquid and liquefied petroleum products and visualize this process on indicators of the dispensers.
VRD-E forecourt card reader
VRD-E forecourt card reader with Ethernet interface is intended for reading of EM-Marine contactless identifiers (125 kHz) and its transmission using Ethernet interface (optionally readers able to read Mifare identifiers (13.56 MHz) and EM-Marine identifiers (125 kHz) are present).
Price boards for petrol stations
Price boards are manufactured in two versions: for outdoor and indoor application. Price boards for outdoor application have a function of automatic brightness adjustment depending on external luminescence.
Wireless interface converter for petrol stations
RFC converter is appointed for establishing of wireless communication between devices having interfaces RS-232 and RS-485.
Computer system of control and account
Computer system for management of petrol station equipment (fuel dispensers, cash registers, ATG systems, etc.) and accounting of fuel and related products sales
The control console for fuel dispensers and automated accounting of fuel sales
The console not only provides control of fuel dispensers, but also has the ability to connect level gauges, send information to a data collection system, to connect the fuel card system with card readers, and keep track of fuel and related products